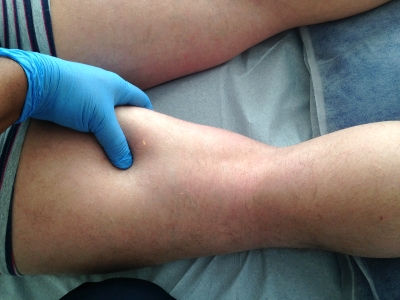 CPD Hours: 24
COURSE OVERVIEW:
The aim of this course is to introduce the concept of 'Trigger Point Dry Needling' to clinicians and develop relevant practical and clinical reasoning skills. The curriculum content covers a). Physiology of trigger points & their referral patterns, b). Indications & Contraindications of needling, c). General Practice Guidelines & Safety aspects of needling, d). Trigger point palpation & identification skills, e).Clinical Surface Anatomy, f). Various needling techniques, g). Patient selection, education & prior consent, h). Pre-needling preparation, post-needling care and management of adverse events, i).Integrated therapeutic approach.
Participants in the course are guided through brief overview of regional anatomy to augment needling skills. This course is complemented with real case studies and participants should be able to use the techniques immediately after completion of the course.
Declaration: This course meets the minimum standard as outlined in ISCP guidelines on Minimal Standards for Dry Needling Education & Training.
Formal Assessment: Participants must successfully complete a formal theory and practical assessment at the end of the course prior to issuance of CPD certificate.
COURSE CONTENT:
Trigger point dry needling of Gluteus-Maximus/Medius/Minimus, Piriformis & Short external Rotators, TFL, Hip adductors, Quadriceps, Hamstrings, Calf muscles, Upper/Middle/Lower-Trapezius, Levator Scapulae, Rhomboids, Supra- & Infraspinatus, Subscapularis, Teres Major & Minor, Latissimus Dorsi, Quadratus Lumborum, Cervical, Thoracic & Lumbar Paraspinals are covered.
LEARNING OUTCOME:
Upon completion of the course, participants should be able to:
Understand the physiology of Myofascial Trigger Points,




Understand patient's pain / symptom presentation that involves predominantly myofascial component.




Improve clinical reasoning process to apply Dry Needling techniques would be most appropriate conditions.




Identify Myofascial Trigger Points.




Improve Clinical Surface Anatomy and Palpation Skills.




Understand all the Indications, Contraindications and Safety aspects of Dry Needling.




Perform Superficial and Deep Dry Needling technique in a safe and effective manner.




Incorporate this in daily practice as another therapeutic tool.
COURSE PREREQUISITES:
1. No prior experience in needling or trigger point therapy course is required.
2. Participant MUST be fully qualified physiotherapist and carry appropriate malpractice insurance.
COURSE FEE:
Early Bird Fee €660. Standard Fee €700. Course fee may vary depending on the venue.